HOW TO CAPTURE LEADS WITH FACEBOOK MESSENGER CHATBOT
2022's BEST MESSENGER CHATBOT TIPS
With the evolution of AI understanding consumer behaviours, Education Institutions and Universities are entering a new marketing phase when it comes to student recruitment and education lead generation.
Like other businesses, educators must embrace the changes and learn to leverage it in their marketing campaigns to stay competitive.
Generating consistent sales is a common challenge for all types of businesses, and colleges or universities are no exception.
In today's landscape, inbound marketing continues to lead the way. This includes videos, articles, and podcasts amplified through social media and email.
Inbound Marketing is done in four stages: Awareness, Demand, Acquisition, and Delight.
The first stage is to attract and create awareness. Presented through articles, paid traffic, social media, or online ads is where the prospect finds your institution.
Thus, they begin researching to determine if the institution is at the very least, a thought leader to what they align with.
By applying retargeting methods ultimately allows Universities to zero in on their target audience and present them with the right content to bring them back to your own site.
This involves advertising to prospects who have shown interest in your University – but haven't become students yet – by positioning highly targeted ads in front of them as they browse upon the internet.
Next stage of student lead generation is to create demand by converting prospects into leads with relevant ads, call-to-action, and engaging landing pages.
Offers like "download our program guide" or "register for a live info session" or "book a time to speak to with financial aid".
The science is to turn time into conversions. The more time your audience spends thinking about your brand, the more likely they are to choose you.
Thirdly, closing the deal. It is the start of an authentic relationship between the college with the student.
By combining the traditional student recruitment strategy of CRM – marketing automation and messenger bot drip campaigns, the admissions team can automate and nurture the relationship with the prospective student far more cost-effective fashion.
It even helps a prospective student determine the right course fit, which means more satisfied enrolled students.
In the final stage in Inbound Marketing is to delight post-transaction. Often overlooked due to focusing on the next group of incoming students instead continue to support with valuable content to the newly enrolled students.
Current students are the most significant supporters and most vocal. As such, they should receive engaging content to continue the relationship and aiming for user-generated content that will increase brand awareness and brand authority.
This is a tremendous win-win for everyone involved. The final result is they get the information and support they need, and the university receives a lift with positive reviews from happy students who share this with their friends!
Filling Classrooms with Facebook and Instagram
With 2.5 billion monthly users, this very robust platform for advertisers, running video and dynamic ads on Facebook and Instagram is the most effective way to reach a target audience and generating consistent leads and sales.
When it comes to prospecting for students, Facebook and Instagram is the most effective way to promote programs.
Facebook & Instagram accelerates every phase of the student enrolment lifecycle. An effort that goes beyond creating posts on a FB page and Instagram profile.
Universities need to have their faculty fully engaged with their students and using data fed into Facebook's customer insights AI.
By directing early-stage student recruitment advertising to Facebook's lookalike audiences of your early applicants, you can increase your inquiries.
In addition list-based retargeting allows the universities to reach people that have readily supplied their contact information, like an email address or phone number.
When we apply a pixel-based method, this gives the colleges a chance to track nearly every person that lands, where they click on the site and product page.
Facebook's data collection Ai profile-building exercise of multiple cookies are used to form someone's web persona without the use of personally identifiable information.
Considering that 95% of users are under 35 years old, Instagram ads are a great way to reach that audience. Furthermore, Instagram is one of the most brand-friendly platforms out there. Brand engagement on Instagram is 20 times more than facebook.
Together with Facebook and Instagram ads work in sequence engage with prospective students with trackable offers.
The ads work by combining information from the Facebook pixel tracking visitors on your website and matching their activities with videos, images, and information from an online catalog of courses.
Driving prospects to your website are meaningless unless there are systems like that to keep them coming back. This process requires detailed web analytics, retargeting, and a step by step funnel.
How Messenger Chatbot Funnel is Suppose to Work
Messenger Bot Funnel is the Most Cost-Effective Solution for Lead Generation for Universities
University of the People is one of the world's leading, online, nonprofit, universities with more than 20,000 enrolled students from over 200 countries.
Since (UoPeople) works with international students, they are always looking for improvements in ways to engage with them, and what details needed before submitting their application.
The problem UoPeople faced was that potential students were frequently communicating to their Facebook page messenger and asking questions about the university before submitting their application. Staff from around the world were employed to answer these messages.
Conversations often span a few hours to fully tell a potential student about their programs and guide them through the processes.
To better communicate instantly a messenger chatbot was developed and structured as per this lead qualification process diagram.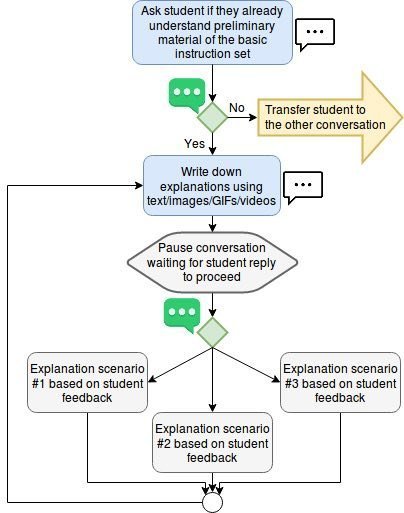 To activate the flow of conversation in the UoPeople chatbot, the user started the messenger chat and was responded with Q & A on their status, alumni, are a student, or seeking to become a student.
Depending on the button selected, for potential students, they can view information based on degree programs, learn about the university, and costs.
The chatbot was able to build a useful user profile based on user actions.
Next, the potential student was funnelled into steps for the lead qualification. The chatbot required the prospective student to share their qualifications and past education before being able to start the application process.
Based on their answers, the chatbot automatically qualified or disqualified a potential student.
Easily and efficiently lead a potential student through the whole process without involving any manual processes.
By automating with a chatbot leaned out the recruiting processes, UoPeople was able to capture leads, more efficiently, and better ROI.
Now that the lead generation inbound marketing for enrollment process was automated by the chatbot, to increase the traffic into the funnel, Facebook Click to Messenger Ads was launched.
This allows a user to see an ad on Facebook or Instagram, click the call to action into Messenger bot. The ad seamlessly sends traffic into bot funnels to generate highly qualified leads.
UoPeople was able to build, update and optimize the bot flows, send re-engagement messages, learn about their users, improve processes with analytics, respond with "Natural Language Processing" and when needed, have the agility to transfer a user to a live agent.
As a result of adding a Messenger bot to their student communication strategy, UoPeople accomplished the following results in the first 3 months:
40,000+ potential students entered the chatbot

1,000,000+ messages sent between a potential student and the chatbot

51% went through the chatbot and started an application

20% completed an application

62% decrease in cost per application compared to its traditional Facebook lead generation campaigns
Optimizing student marketing is knowing how to establish awareness of your university.
Understand where your students tend to be and how they search. So, when you decide how to allocate the marketing budget, place a strong emphasis on the methods that boost your ROI.
Obvious advice but in the age of digital marketing for the global marketplace, you would be surprised how many universities maintain old methods of handing out flyers for on-campus recruitment.
These days, it's about building an online presence that is active with students and having the ability to reach them where they already are.
2020's Best Messenger Chatbot Strategies